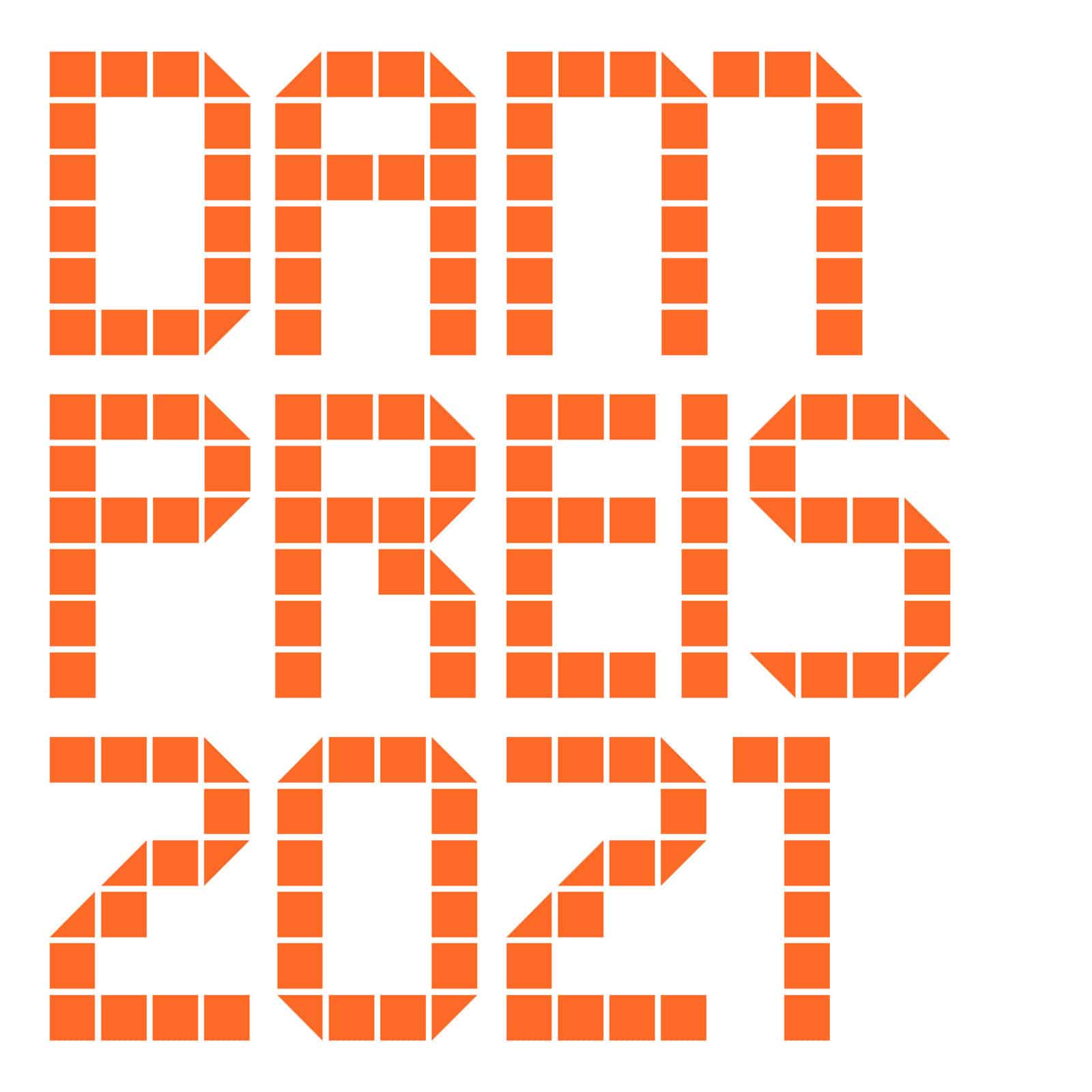 The best 25 buildings in from Germany
Since 2007, the DAM Prize for Architecture has been awarded annually to outstanding buildings in Germany. In 2021, the prize will be awarded by the German Architecture Museum (DAM) for the fifth time – in close cooperation with JUNG as a cooperation partner – in a staggered jury procedure.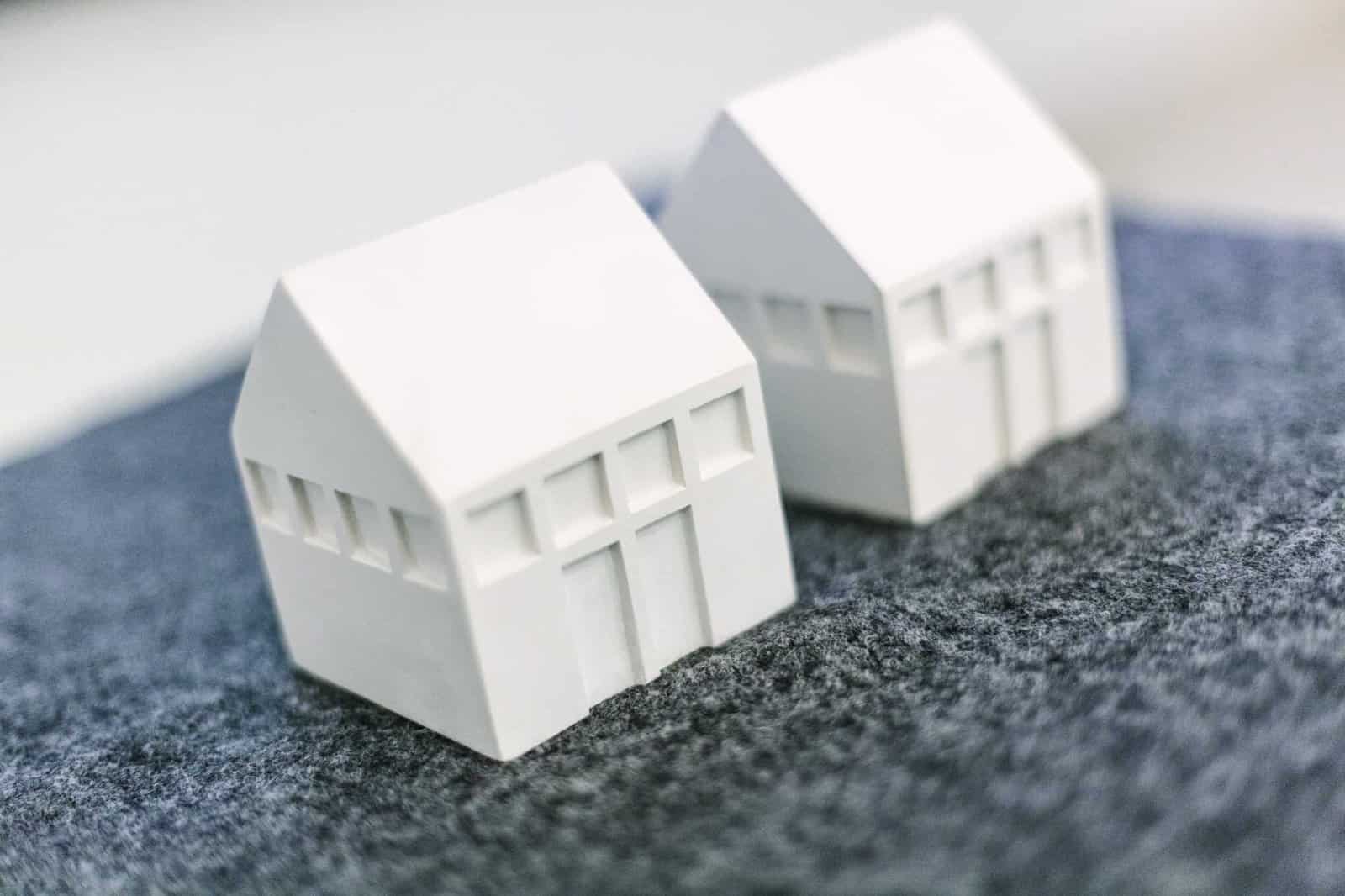 January 30 – June 27 2021, 3. Fl
The DAM Preis for Architecture in Germany 2021 has been awarded to MVRDV and N-V-O NUYKEN VON OEFELE ARCHITETKEN for WERK 12 in Munich.
WERK12 is located on the former Pfanni site near Munich's Ostbahnhof station. For some years now, the area has been developing into an experimental urban district. Circumferential wide balcony walkways and cascading staircases characterize the building on the outside; its fresh, cheeky appearance is given by huge letters with onomatopoeia borrowed from comics on the facade. The open space in front of the building supports its appearance. It is no coincidence that the images of the Dutch Expo 2000 pavilion pop up in the mind's eye: It animated the client to commission the building. Inside, the five-story building offers a high degree of flexibility for a wide range of user requirements. Additional levels are created by retracted galleries in the high rooms. Open installations and exposed concrete characterize the interior. A fitness studio occupies three floors, one of which has a pool. In addition, there are various restaurant uses and office spaces.
The presentation for the DAM Preis 2021 shows current architecture from Germany and remarkable projects by German architectural firms in other countries. For the DAM Preis for Architecture in Germany, the museum has nominated 100 remarkable buildings or ensembles. The nominated buildings for the DAM Preis 2021 had to be completed between the end of 2018 and the spring of 2020. The jury of experts nominated 22 projects for the shortlist of the DAM Preis 2020. From this shortlist, four buildings were nominated as finalists for the DAM Prize 2021, assessed on a jury tour and finally the winning project named.
The shortlist covers aspects of housing construction, for example a modular building in Berlin that takes its cue from industrial examples, und a building complex in Nuremberg that cites the predecessor building in its use of ornamental spolia. Childcare centers are likewise featured, with two completely different solutions, the one a refined wooden structure in Ditzingen, the other the conversion of a somewhat unremarkable villa into an all the more refreshing childcare center in Memmingen. Just how varied can administrative buildings be? Indeed, just how can strongly can they foster communication? The head office of drugstore chain dm located in Karlsruhe's Durlach district, which draws on anthroposophy for inspiration, is exemplary in terms of constituting corporate architecture. Not least, special builds that shape the face of the specific location are also shortlisted: They include the high-water protection structure and waterside promenade in Hamburg's Niederhafen and the innovative wooden structure for the Urbach Tower in the beautiful Remstal surroundings, for example.
With the publication of Architekturführer Deutschland 2021 (Architectural Guide Germany) the shortlist, finalists and the prize winning project are presented in a handy printed version. Published by DOM publishers in Berlin, the book is now available.
The exhibition is curated by Christina Gräwe und Yorck Förster.
Impressions of the exhibition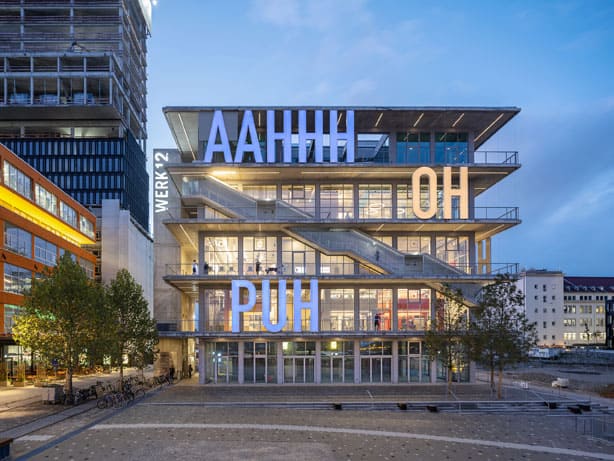 Werk12, Munich, Germany
ARGE MVRDV & N-V-O NUYKEN VON OEFELE ARCHITEKTEN
Photo: Ossip van Duivenbode, @Ossip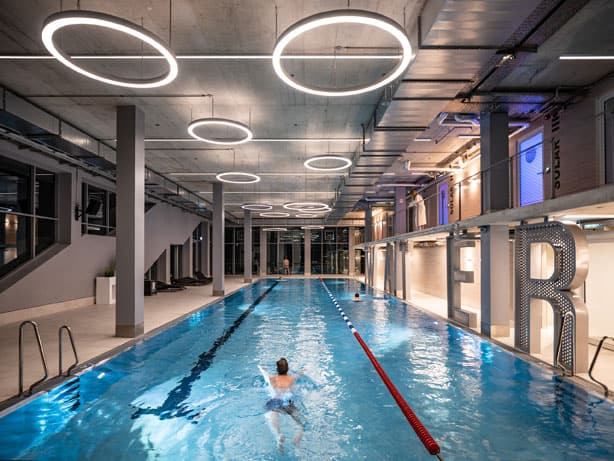 Werk12, Munich, Germany
MVRDV & N-V-O NUYKEN VON OEFELE ARCHITEKTEN
Photo: Ossip van Duivenbode, @Ossip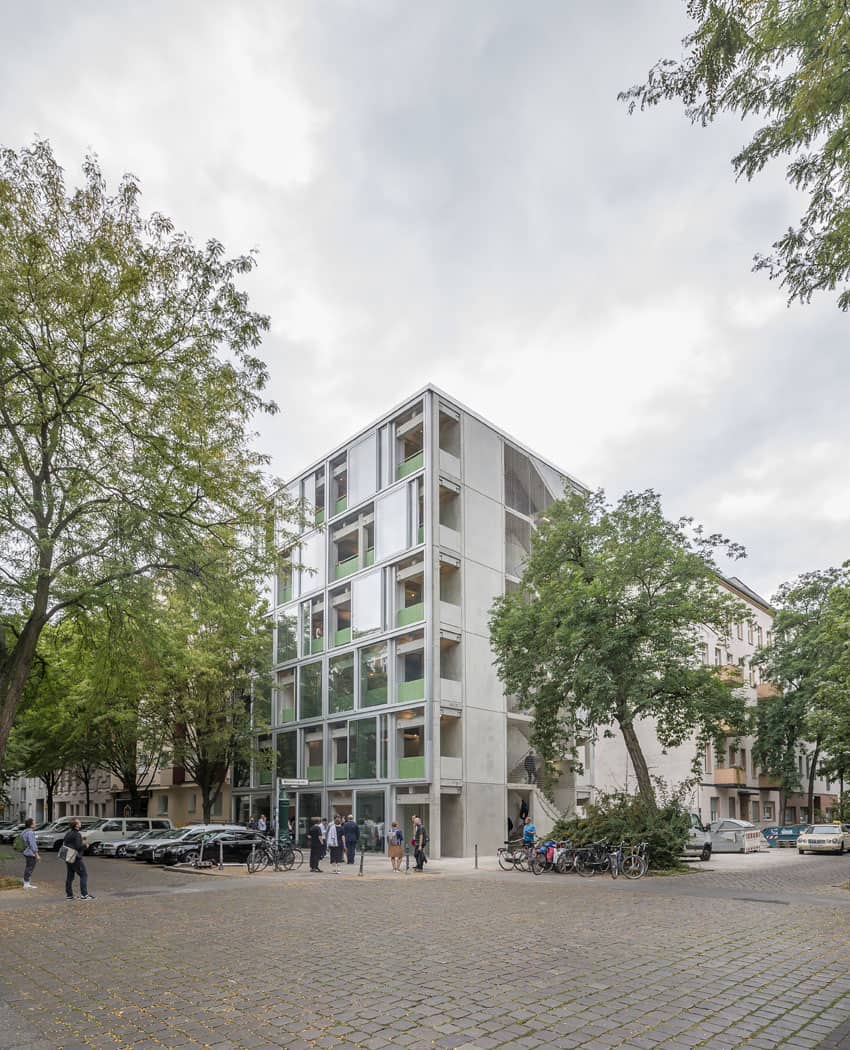 Wohnregal, Berlin, Germany
FAR FROHN & ROJAS
Photo: David von Becker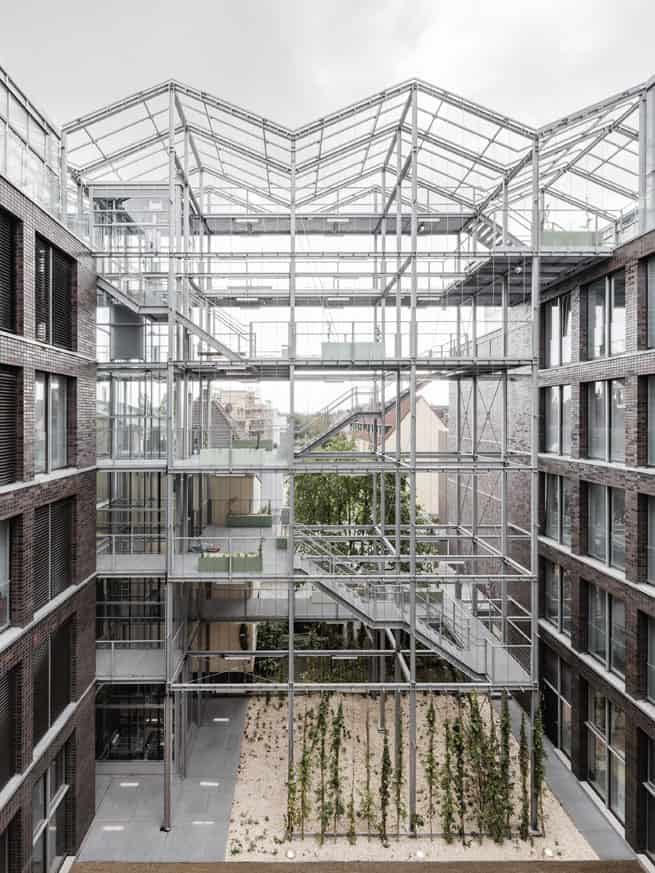 Integrated roof greenhouse and administration building, Oberhausen
KUEHN MALVEZZI
Photo: hiepler, bruenier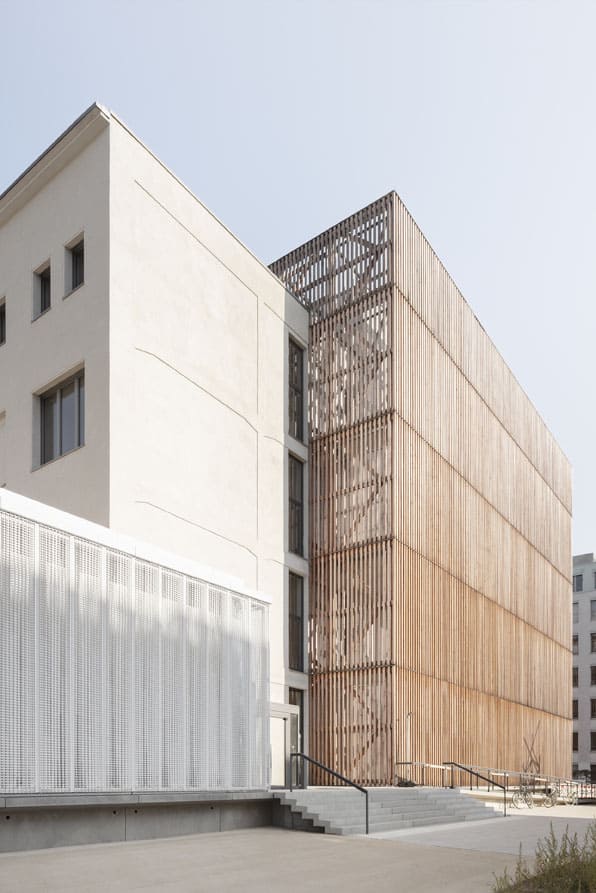 Ernst Busch University for Dramatic Arts, Berlin
O&O BAUKUNST
Photo: Schnepp Renou
The Nominated Projects for the DAM Preis 2021
ALLMANN SATTLER WAPPNER . ARCHITEKTEN
Revitalization Schwanthaler Höhe, Munich
ARETZ DÜRR ARCHITEKTUR
"Haus D // 6", Oberberg
ARGE MVRDV & N-V-O NUYKEN VON OEFELE ARCHITEKTEN PRIZE WINNER
"WERK12", Munich
ATELIER KEMPE THILL
Tenever atrium house, Bremen
ADDENDA ARCHITECTS
Bauhaus Museum Dessau
BEHNISCH ARCHITEKTEN
KIT Energy Lab 2.0, Eggenstein-Leopoldshafen
BEZ + KOCK ARCHITEKTEN
Südwestfalen Museum and Cultural Forum, Arnsberg
BARKOW LEIBINGER
Trumpf Day Care Center, Ditzingen
BRUNO FIORETTI MARQUEZ
Extension of the district office Neustadt an der Waldnaab
BUNDSCHUH ARCHITEKTEN
Suhrkamp ensemble, Berlin
FAR FROHN&ROJAS FINALIST
"Wohnregal", Berlin
HILD UND K
Living at Werderstraße, Nuremberg
HEILERGEIGER ARCHITEKTEN
Day Care Center Karoline Goldhofer, Memmingen (Allgaeu)
HELGA BLOCKSDORF ARCHITEKTUR
Rosé Residence and studio house, Berlin
ICD / ACHIM MENGES UND ITKE / JAN KNIPPERS, UNIVERSITÄT STUTTGART
Urbach Tower, Remstal
KUEHN MALVEZZI WITH ATELIER LE BALTO FINALIST
Integrated roof greenhouse and administration building, Oberhausen
LRO LEDERER RAGNARSDÓTTIR OEI
Dialogicum – dm-drogerie markt Company Headquarters, Karlsruhe
MAX DUDLER
Eisenbahnmuseum, Bochum
O&O BAUKUNST FINALIST
Ernst Busch University for Dramatic Arts, Berlin
WANDEL LORCH ARCHITEKTEN
Memorial Hotel Silber, Stuttgart
ZAHA HADID ARCHITECTS
Niederhafen flood protection and promenade, Hamburg
ABROAD
BOLLES + WILSON
BnL – Bibliothèque nationale du Luxembourg, Luxemburg
GMP ARCHITEKTEN VON GERKAN MARG UND PARTNER
South railway station Hangzhou, China
INGENIEURE OHNE GRENZEN E.V.
Rising Star School für Hopley, Harare, Simbabwe
TERRAIN: INTEGRAL DESIGNS
GRÜNE ERDE-WELT company and visitor center, Steinfelden, Austria
JUNG Lectures. The finalists and the shortlist of the DAM Preis 2021
Dates shortly online at dam-preis.de, Start in March 2021

Guided tours with Yorck Förster
From the opening of the museums every Saturday and Sunday, 4 p.m.
Partners