Supporting friends. Gladly.
We support what is close to our hearts: outstanding architecture.
The Gesellschaft der Freunde des Deutschen Architekturmuseums e.V. (Friends of DAM) was founded in 1985 and supports DAM in the realization of its public duties, both in ideal form and materially. Can we count on you too?
What we concretely support. And we are sure you would like to as well.

High-quality exhibitions and accompanying programs, which earn DAM great international renown, always need support. As do top grade catalogs and children's books on the topic of architecture. We support all this financially, as we do the expansion of the extensive DAM collection through the purchase of estates, drawings, and models.
The Friends of DAM recently supported these three exhibitions:

Your exclusive advantages as a member:
Private previews before exhibitions
Exclusive tours of every exhibition
Special tours of architecture Open house – a special event Information on exhibitions, lectures, symposia DAM Yearbook or Architecture Guide – free of charge, of course Annual editions at a preferential price
20% discount on all publications
Contacts to other experts
Tax advantages through donation receipt
I/we would like to become a member of Gesellschaft der Freunde des DAM e.V.:
Private individual membership
Students / senior citizens
Legal persons / groups of persons
Exclusive previews. Be involved.
Viewings before everyone else.
As a member you can experience something very special. At exclusive previews you can view the new exhibitions before everyone else and find out all about the exhibition from its makers. The following discussions over food and a glass of wine always leads to interesting new contacts. We look forward to welcoming you and your guest to the previews.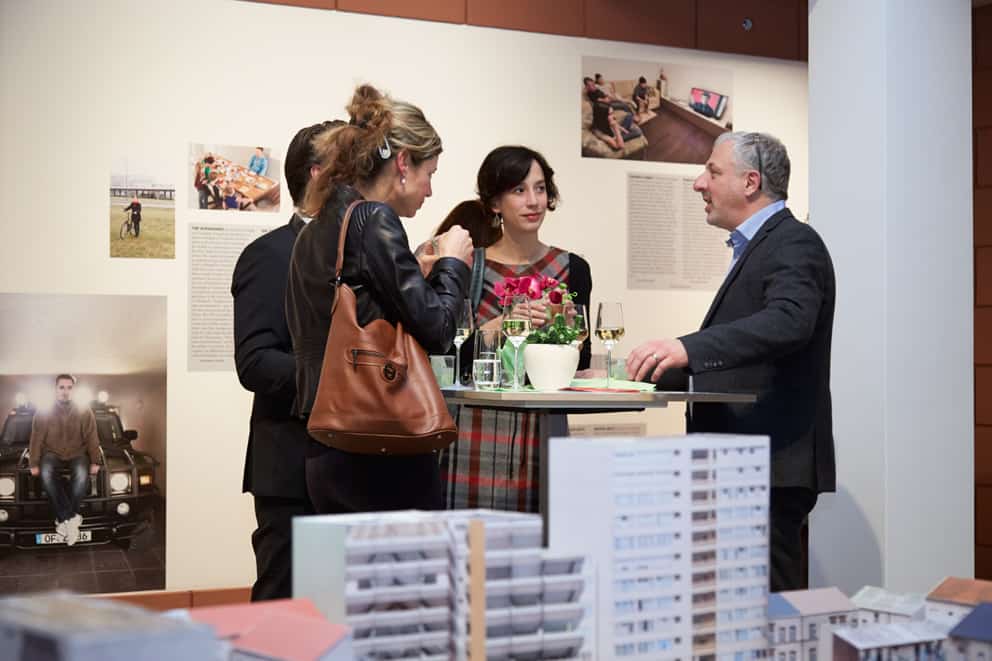 For non-members

Having registered and received confirmation of your registration yon can as a non-member attend a Friends' preview once. The number of places is limited: freunde.dam@communetwork.net
We are delighted about your interest!
Supporting kids.
Learning how to experience architecture.
Aesthetic perception develops when we are kids. For this reason, DAM has a wide-ranging educational program for kids of all ages: from workshops, project days in schools and intercultural exchange between nature, culture, and architecture to themed guided tours in the Museum. The further training of educators is an important element of our work with adolescents. We provide great support for all this, after all we want to arouse children's interest in architecture and lay the foundations for kids as adults being able to promote the built environment.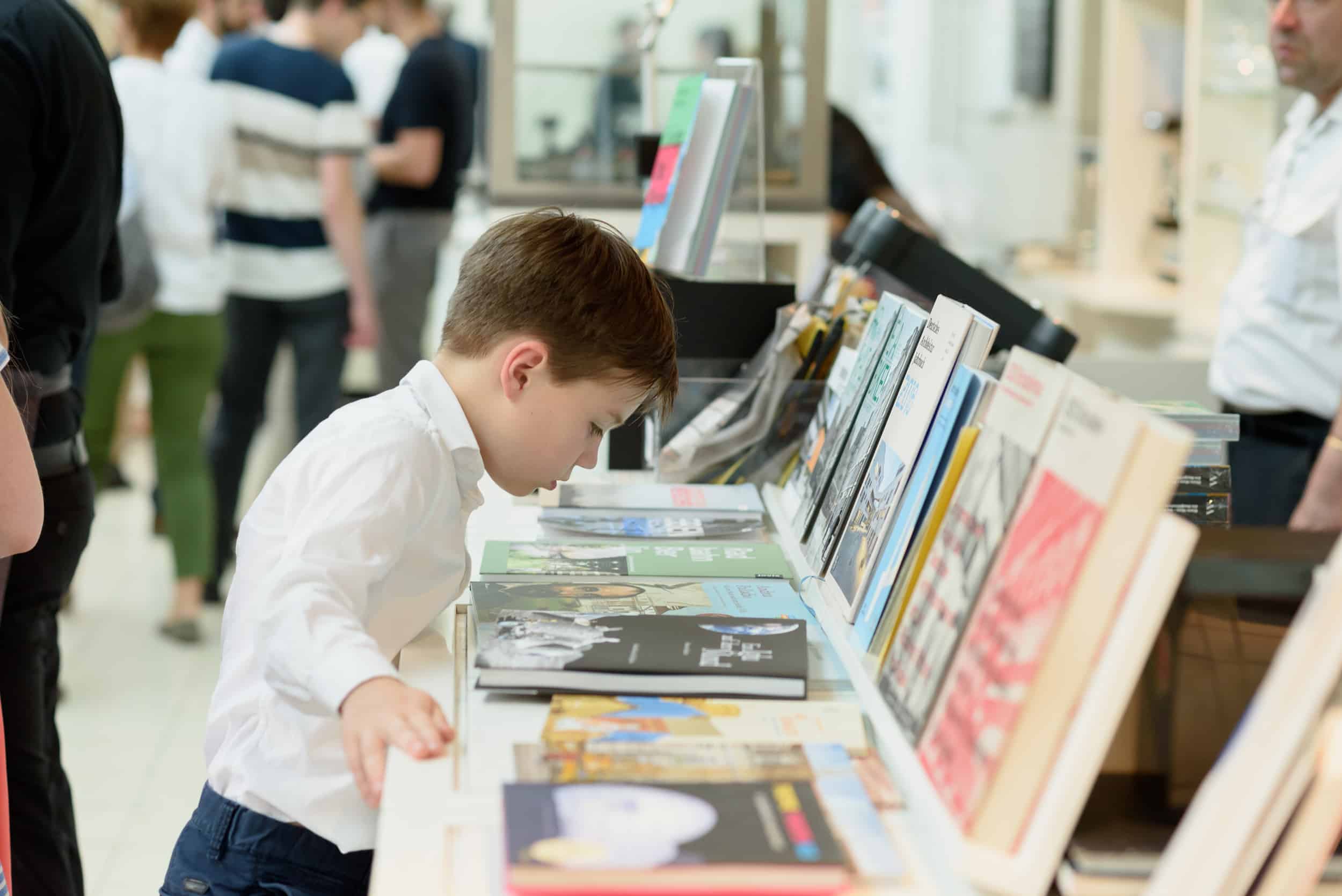 Books for kids are also among the projects we support: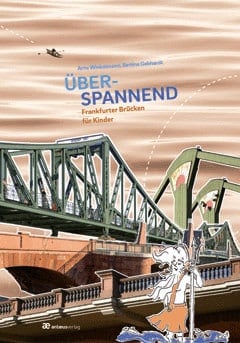 Welche ist die längste Brücke in Frankfurt? Und wie halten so lange Brücken überhaupt? Welche ist die älteste Brücke in Frankfurt? ... Diese und viele weitere Fragen werden in "ÜBERSPANNEND. Frankfurter Brücken für Kinder" beantwortet. In diesem Buch wird eine Auswahl von 20 Frankfurter Brücken vorgestellt – eine Art Architekturführer für Kinder.
Local friends and pleasure.
Experience special moments.
Discover select places with the Friends. Year after year we experience extraordinary structures, environments and highlights under construction together. Many of them are opened exclusively for our members.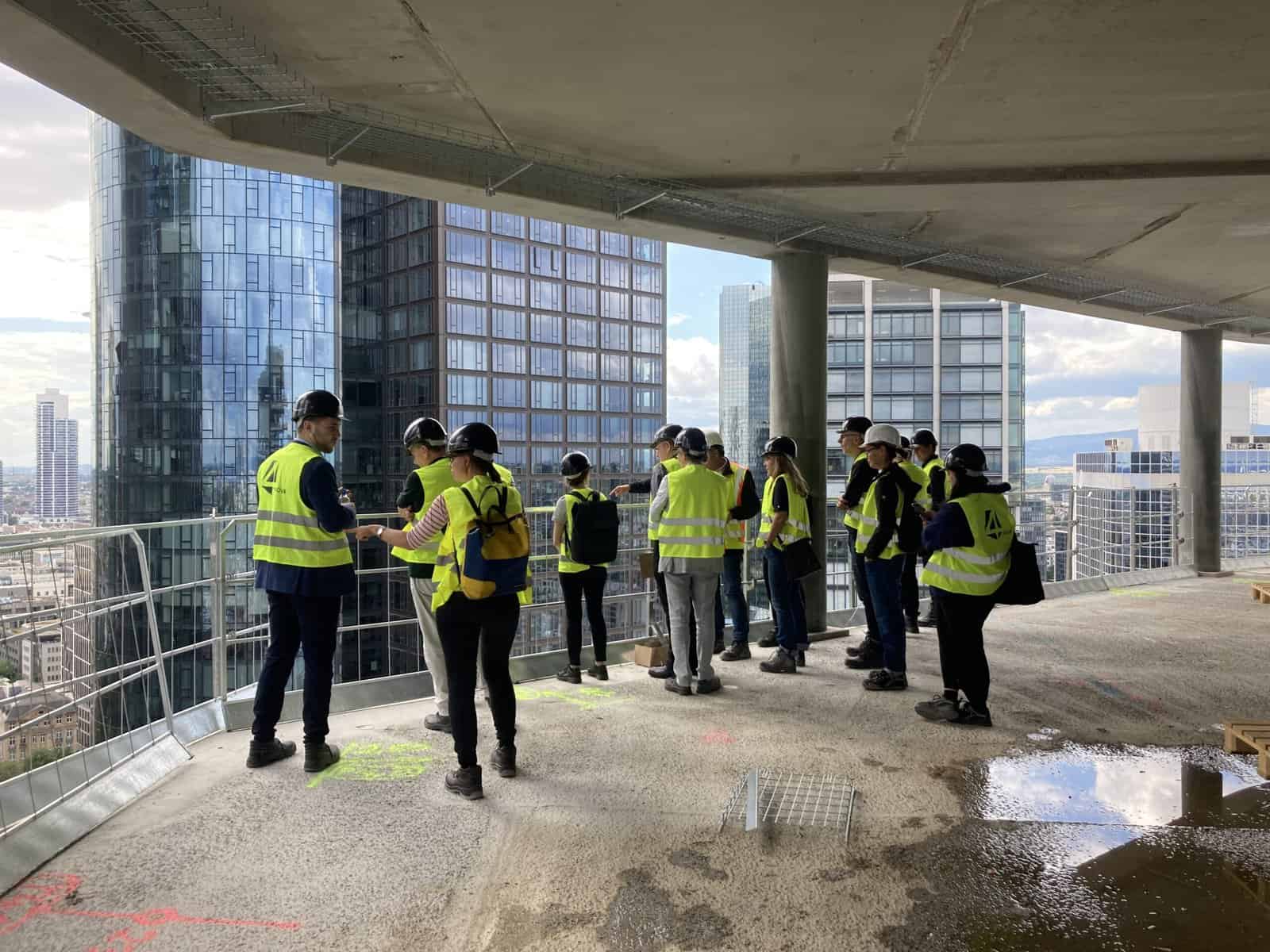 Conditions of participation
The FREUNDE VOR ORT (local friends) series of events is for registered members of Gesellschaft der Freunde des DAM only. Attendance is only possible on presentation of valid ID! The number of participants is limited, the date of receipt of registration by e-mail to
m.andreas@communetwork.net
is decisive. Attendance of the guided tour is at your own risk, the organizer does not accept any responsibility.
Our exclusive auctions.
Take big names home with you.
Our auctions have become famous throughout the city. Renowned national and international architects, artists, and photographers regularly make available to us sketches, watercolors, etchings, models, and photographs, which you can buy at our auctions. Why not take home, for example, a genuine David Chipperfield, Herzog & de Meuron or Richard Meier, while at the same time supporting DAM. The more we earn, the more we can support and do good deeds.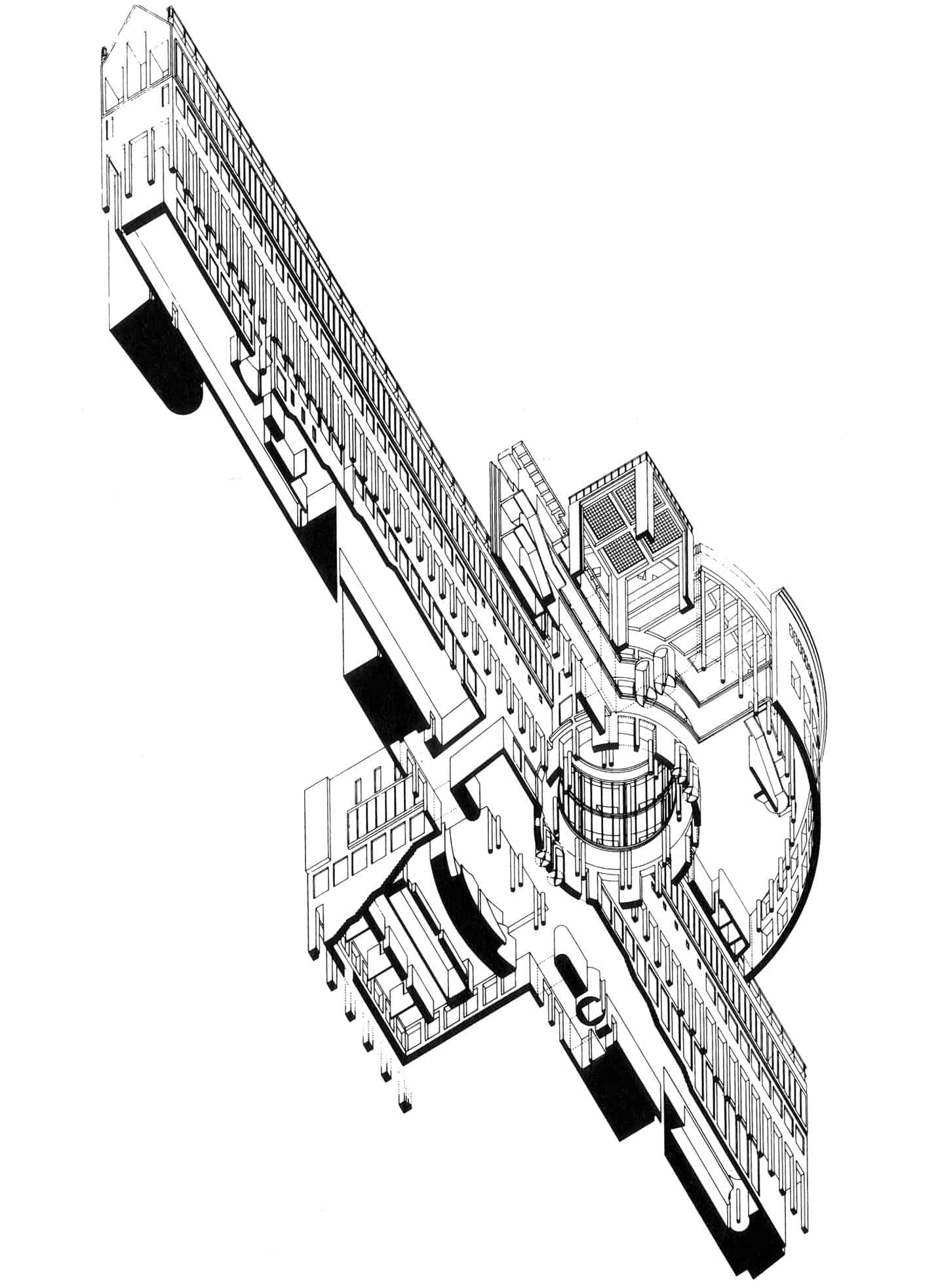 The Gesellschaft der Freunde des DAM e.V.
The board:
Marietta Andreas (Vorsitz)
Prof. Kerstin Schultz (Stellv. Vorsitz)
Martin Seelinger (Schatzmeister)
Michael Bahrenberg
Prof. Jo Eisele
Danny A. Lettkemann
Florian Schlüter
Anna Scheuermann 
Honorary members:
Prof. Max Bächer †, Prof. Helge Bofinger †, Prof. Johannes P. Hölzinger, Prof. Dr. Wolfgang Pehnt, Dieter Rams, Rolf Toyka, Prof. Oswald Mathias Ungers †
Supporters:

1100 Architekten Riehm + Piscuskas BDA, Frankfurt am Main, New York, USA
allmannwappner gmbh, München
Architekten und Stadtplanerkammer Hessen, Wiesbaden
A R C TEC GmbH, Michael F. & Caroline Arnold Architekten, Frankfurt am Main
Artemide Deutschland GmbH & Co. KG, Fröndenberg
AS + P Albert Speer + Partner GmbH, Frankfurt am Main
Bauverlag BV GmbH, Gütersloh
Bund Deutscher Architekten BDA im Lande Hessen e.V., Frankfurt am Main
Bund Deutscher Baumeister, Architekten & Ingenieure e.V., Berlin
Bund Deutscher Baumeister, Architekten und Ingenieure Hessen Frankfurt e.V., Frankfurt am Main Bund Deutscher Baumeister Landesverband Hessen, Darmstadt
B+G Ingenieure Bollinger + Grohmann GmbH, Frankfurt am Main
BIG Bjarke Ingels Group, Kopenhagen, Dänemark
Claus Wisser Verwaltungs und Beteiligungs GmbH &Co. KG, Frankfurt am Main
Coop Himmelb(l)au, Wolf D. Prix & Partner ZT GmbH, Wien, Österreich
cornelsen+seelinger Architekten BDA, Darmstadt
David Chipperfield Architects, Berlin
Deutsche Werkstätten Hellerau GmbH, Dresden
Dornbracht Deutschland GmbH & Co. KG, Iserlohn
ernstmaygesellschaft e.v., Frankfurt am Main
Euroboden GmbH, Grünwald
Frankfurter Allgemeine Zeitung, Frankfurt am Main
HPP Architekten GmbH, Düsseldorf
InformationsZentrum Beton GmbH, Erkrath
ingenhoven architects, Düsseldorf
Ingenieursozietät Prof. Dr.-Ing. Katzenbach GmbH, Frankfurt am Main
Just ⁄ Burgeff Architekten, Frankfurt am Main
Landes & Partner, Frankfurt am Main
Louis Poulsen Germany GmbH, Düsseldorf
Marte.Marte Architekten, Feldkirch, Österreich
Meixner Schlüter Wendt Architekten, Frankfurt am Main
MIG Material Innovative Gesellschaft mbH, Salzkotten
Morger Partner Architekten, Frankfurt am Main
Nassauische Heimstätte Wohnungs und Entwicklungs GmbH, Frankfurt am Main
netzwerkarchitekten GmbH, Darmstadt
Payel Rahman Architekten GmbH, Frankfurt am Main
Pfeifer INTERPLAN, Bauberatung, ProfessorPfeiferundPartner PartGmbB, Darmstadt
Raumwerk Gesellschaft für Architektur und Stadtplanung mbH, Frankfurt am Main
s.boehme & co., Frankfurt am Main
Schmidt Plöcker Architekten PartGmbB, Frankfurt am Main
schneider+schumacher Verwaltungsgesellschaft mbH, Frankfurt am Main, Wien, Österreich, Tjianjin, Shenzhen, China
SCHÜCO International KG, Bielefeld + Seelinger Architekten+Ingenieure, Darmstadt
Stefan Forster Architekten, Frankfurt am Main
unstudio Frankfurt, Frankfurt am Main
Wenzel + Wenzel Freie Architekten, Frankfurt am Main ⁄ Karlsruhe
Werner Sobek Frankfurt GmbH & CO KG, Frankfurt am Main
Wentz & Co. GmbH, Frankfurt am Main
wörner traxler richter planungsgesellschaft mbh, Frankfurt am Main
WPV Baubetreuung GmbH, Frankfurt am Main
Zumtobel Group, Frankfurt am Main Haworth GmbH, Bad Münster​
Haworth GmbH, Bad Münster
Private supporting members (who have consented to their names being published on this site):
Bodo Adler
Marie Andreas
Cihat Ankaoglu
Sigrid Auberg-Watzlawik
Rainer Ballwanz
Eike Becker
Torsten Becker
Dr. Rolf Beckers
Uwe Bellm
Nicole Kerstin Berganski
Dr. Eckhard Bergmann
Astrid Berndt
Moritz Bernoully
Björn Bernshausen
Dr.-Ing. Heinrich Birck
Stefan Boehme
Michèle Brandau
Dr. Sabine Brinitzer
Christina Budde
Drs. Susanne und Jürgen Capell
Christian Eichinger
Michaela Eisenreich
Dr. Konrad Elsässer
Vera Fabritius
Lisa Farkas
Sunna Gailhofer
Marc Gatzweiler
Alexandra Geiseler
Bernd Gergull
Roman Gerike
Annika Griewisch
Dr. Marcus Gwechenberger
Dr. Sylvie Haase
 Ferdinand Heide
Norbert Helmus
Regina Herrmann
Wolfgang Hinkfoth
Kristian Hüsen
Prof. Dr. Moritz Hunzinger
Mike Josef
Andrea Jürges
Jochen Kappel
Angela Keiser
Joachim Kilb
Laura Klinghammer
Irmtraud Knapp-Wünsch
Moritz Kölling
Christine Krämer
 Nora Kramer
Dr. Regina Krause
Prof. Regine Leibinger
Danny Alexander Lettkemann
Paul-Martin Lied
Hans-Jürgen
Lison Thomas Lot
Gesine Ludwig
Dieter von Lüpke
Pascal Lurk
Prof. Dr. Florian Mähl
Christine Mährle
Marc Markowski
Nicoleta Mena
Hans-Ulrich von Mende
Christoph Mesmer
Heiko Messerschmidt
Nils Meyer
Tamina Milius
Lucian-Maria Muchowski-Kees
Wilhelm Opatz
Regina Prause
Thomas Prey
Prof. Stefan Pützenbacher
Janine Rahm
Prof. Dr. Riklef Rambow
Andreas Reichau
Stefan Rethfeld
Valentin Rimpf
Moritz Schäfer
Rolf Schenk
Anna Scheuermann
Peter Cachola Schmal
Elena Isabel Schmidt
Kerstin Schmidt
Martin Schmitz
Martin Schneider
Reinhard G. Schott
 Julian A. Schoyerer
Ansgar Schulz
Benedikt Schulz
Dr. Martin Schuppli
Andrea Schwappach
Maximilian Seiferlein
Christina Spiegel
Sarah Spiegel
Catherine Stephen
Peter Thoemmes
Rolf Toyka
Josef Tröster S
tefan Trosdorf
Ralf Utsch
Libor Vincent
Dr.-Ing. Wolfgang Voigt
Roland Volk
Prof. Dr. Georg Vrachliotis
Dietrich Warmbier
Martina Westhäuser
Florian Witt
Peter Wöste
Michael Wutzke
Wolf-Rüdiger Zahn
Contact
The Gesellschaft der Freunde des Deutschen Architekturmuseums e.V.
Office: c/o Marietta Andreas, Rothschildallee 59, 60389 Frankfurt am Main
Tel.: +49 (0)69–97 203 366 · Mobil: +49 (0)178–4 475 363
email: freunde.dam@communetwork.net
facebook: Freunde des Deutschen Architekturmuseums
Instagram: freundedesdam