DAM Architectural Book Award 2020
October 21, 2020 – November 1, 2020
The Frankfurt Book Fair and the Deutsches Architekturmuseum (DAM) are presenting the jointly initiated International DAM Architectural Book Award for the twelfth time. The DAM would like to thank the Society of Friends of the DAM for its generous support of the prize.
The ten prize winners this year are:
Ludwig Leo: Umlauftank 2 / Spector Books
Berliner Portraits – Erzählungen zur Architektur der Stadt / Verlag der Buchhandlung Walther König)
Behelfsheim / Selbstverlag
Holz Bau. Timber Architecture in the Early Modern Period of Germany / GADEN Books
Eileen Gray / Bard Graduate Center
Design DNA of Mark I:Hong Kong's Public Housing Prototype / MCCM Creations
Die Ökonomisierung des Raums. Planen und Bauen in Mittel- und Osteuropa unter den Nationalsozialisten 1938 bis 1945 / DOM Publishers
Schiphol. Groundbreaking airport design 1967–1975 / nai010 publishers
Vokabular des Zwischenraums. Gestaltungsmöglichkeiten von Rückzug und Interaktion in dichten Wohngebieten / Park Books
Quirino de Giorgio An Architect's Legacy / Park Books
The prize, unique in its kind and now highly respected, honours the best architecture books of a year. 101 architecture and art book publishers worldwide have responded to the joint call. A specialist jury of external experts and representatives of the DAM selected the ten best architecture books of the year from 274 entries according to criteria such as design, content concept, quality of materials and workmanship, degree of innovation and topicality.
The wide range of topics and the high standard of the entries presented the jury with an enormous challenge. For this reason the jurors once again decided not only to pick ten prize winners, but also to select a further ten entries for the Shortlist of the DAM Architectural Book Award 2020.
Mapping the Croatian Coast. A RoadTrip to Architectural Legacy of Cold War and Tourism Boom / Jovis
The Walter Benjamin and Albert S. Project / Jap Sam Books (Niederlande)
Architektur auf gemeinsamen Boden. Positionen und Modelle zur Bodenfrage / Lars Müller Publisher
HOUSE FOR SALE / EDIZIONI CORRAINI / CCA Canadian Center for Architecture
Obra Gruesa / Rough Work / Hatje Cantz Verlag
Bedeutsame Belanglosigkeiten / Verlag Klaus Wagenbach
Alvaro Siza Vieira. A pool in the sea. In conversation with Kenneth Frampton / Actar Publishers und IITAC Press
Le Corbusier: Unité d'habitation "Typ Berlin": Konstruktion und Kontext / Jovis
Eine Geschichte des gemeinschaftlichen Wohnens: Modelle des Zusammenlebens / Birkhäuser
Carrousel Confessions Confusion 1 & Carrousel Confessions Confusion 2 / Studio Jan De Vylder together with Koenig Books
Weitere Ausstellungen
---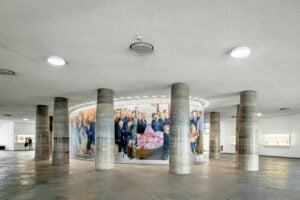 28. June 2022
–
31. December 2030
Die Frankfurter Paulskirche gilt als eines der wichtigsten Demokratiedenkmale Deutschlands. US-Präs...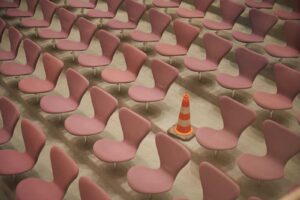 The European Architectural Photography Prize has been awarded every two years since 1995, and since ...